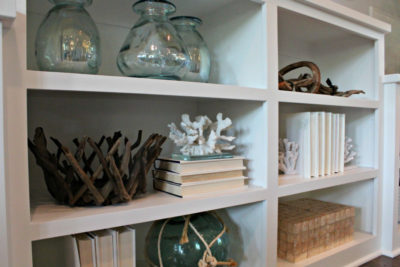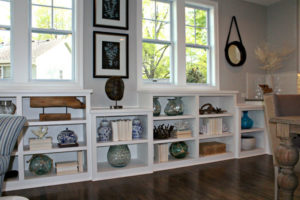 From Cluttered to Collected….3 steps to help organize built-ins!
I always look at built-ins as a great feature in a house, the detail, the charm of making a room feel so personal.  Since reading books seems to becoming obsolete because of modern technology, we have so many new options of displaying our personal interests to tell the story of who we are in our own homes.  We don't have to limit our design to only books.  Having built-ins is a great way to tell the story of who we are.
To help make built-ins look less cluttered and more collected, here are 3 tips to keep in mind when organizing your shelves
1. Use interest when adding your books.  Books no longer need to be displayed end to end on a shelf.  Line the shelves either horizontally or vertically with books, stack them laying down or even stand up showing an interesting cover, add bookends as part of the decor, removed the sleeve jacket and cover the books with white or kraft paper if they look worn or torn, face books outward to show pages instead of titles.
2.  Mix in your favorite collectibles or things you love.  I happen to love the beach so I incorporate coral, shells, driftwood, frames, etc.  It always helps if you try and create some symmetry to give a some balance to the design.  Items could match in visual weight instead of being identical.  If a stack of books is equal in visual weight to a box, this would give you a chance to create a very unique design style by incorporating things you have or love to display. Create a theme if you have several objects that go together.
3.   Mix in textures, colors and finishes that compliment each other.  You eye will always go to pattern and color first, so add interest to carry your eye around the built ins to show consistency and purpose in your display.  This also gives you a chance to add in color and texture keeping your display interesting and relevant.
By using these simple ideas, your shelves will look consistent, purposeful and not to mention, beautiful in displaying things that are important to you.  Yes, built ins are charming, they capture your attention when you walk into a room…it's your chance to let people know a little about you with your design style.