5 Reasons why an Owner Occupied Home can benefit with Home Staging.
Some people think home staging is about bringing furniture into an empty house.
That's only part of it. Homes that are occupied with sellers can benefit equally as much if not more. And the cost to stage an owner-occupied home is often less because there is a "base" of furnishings to work with.
Homeowner's get used to their homes after living in them. They get used to the flaws or discomforts after years of living with them. When I first moved into my current house "I couldn't live with the bathroom" the way it was. It was definitely something that needed updating immediately!   Eleven years, later, I finally got it updated! Funny how other priorities get in the way of so many things we think we need.
I've never been in a house that could not benefit from some level of home staging. And I've been in hundreds and hundreds of beautifully decorated home.   Even when a home is beautifully decorated, we get lost in that, we get lost in the personal stories and style of the homeowner, their things, their collections, etc. and we don't focus on the house itself.
The biggest difference in decorating vs homes staging is that decorating is about the people who live in the house and their lives. Home staging is about the house focusing on the architectural features, the floor plan, the light and energy of the space, the details, and the strategic placement of furniture and accessories throughout the space of each room. Each room should highlight a focal point so that the buyer sees the potential and the features they are paying for and allow the house to stand out from the rest of the competition.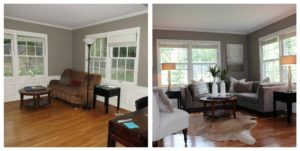 An unbiased eye with a professional home stager will allow you to maximize the potential and profits in selling your house.
Here are the top 5 reasons an owner occupied home will benefit from staging by getting a higher offer and a quicker sale.
The buying demographic will relate to the house. A professionally staged home is staged to appeal to the buyer and their lifestyle. When a buyer can imagine themselves living in that house, they are willing to buy it. If tired or worn furnishings are replaced with updated options, a buyer will relate to that and want to live there as opposed to a similar house that may not have been updated. If the colors are neutral and trends shown are current, a buyer will feel this house is move in ready and are willing to may for that.
A professionally staged home feels like a well maintained home. A buyer is wiling to pay more for a home they feel has been taken care of. This means updated paint, lights, carpeting, de-cluttering, etc. When a homeowner cares enough to make these improvements a buyer knows they can feel comfortable making an offer knowing the basics, or the things they see in front of them are well cared for. If a home is neglected or not updated, a buyer will start to think about the things they "can't see" that may be neglected as well. Things they start to think about are older mechanical systems in a house, the age/condition of a roof, etc.
A professionally staged home that shows the purpose of each space has more value to a buyer. When a 3 bedroom home is professionally staged as a three bedroom home, rather than 2 bedrooms with an office, if the buying demographic is a young family, remembering and seeing the "3rd bedroom" will be value in the buyers' mind. Just as a kitchen even though it may be small, if there is room for an eat in table and chairs, will add more value if a family can see added space that will meet their needs. Every room should show it's purpose, and if at all possible only one purpose.
A professionally staged home will show the best flow of the space. By re-arranging and editing furnishings, a room will make the space feel larger and allow a better natural flow through the space. This will make a buyer feel as if they are getting more, and in turn they are willing to pay more.   Sometimes just editing a homeowners current items can give a room a fresh new perspective to a buyer and open up the space.
A professionally staged home will feature a focal point in every room. When a buyer enters each space, a focal point will be noticed creating interest in the space or a great architectural feature the buyer will be getting in the house. For example, a living room furniture arrangement should allow the buyer to see the fireplace as a feature they are getting in the house. If there isn't an architectural feature in the house, there are times when a piece or furniture or art piece then becomes the focal point which still allows the buyer to be excited about entering the space.
A professional home stager can consult on an hourly basis. Prices range from $50-$150 per hour average around the country.  The investment in home staging has been proven by selling 50-80% quicker than non-staged homes and for 7-10% more. For more information, give us a call at 913-206-5616 or visit our website at www.kansascityhomestagers.com