When you're getting ready to sell your house, there are some people who think they don't need to work with a home stager because their house has been decorated, either by themselves, or by a professional designer.  The difference in decorating vs home staging as I explain to people is that decorating is all about the people who live there, their lives, their hobbies, their interests.  Home staging on the other hand is actually about the "house" and not the people who live there.
By investing in home staging, a homeowner will benefit in many ways.  The three top reasons to hire a professional home stager are as follows:
1.  A home stager can look at your house with an unbiased and professional eye to help create a space that shows the architectural features of the house, shows the best floor plan and layout of the furniture creating a flow through the space, and understands the demographic buyer of your house.  They will make suggestions on the current trends including colors, furnishings and lifestyle that today's buyers are looking for.  The staged house allows the buyer to focus on the house, and not the personal collections and lifestyle of the current owner.
2.  A home stager can help you make the greatest ROI with home staging.  They can direct you to make the necessary improvements and upgrades that will return the highest value.  Any time money is spent in upgrading or improving kitchens and baths, a homeowner will gain the highest return.  At times, it may be as simple as current color trends (neutrals) or even updating the lighting which can dramatically change the appearance and age of an existing home.  These small upgrades will make a home competitive with other homes on the market.   A home staging consultation can take a few hours or days to prepare your house for sale depending on the scope of the work.  Typically home stagers work on an hourly basis and can help do or coordinate the list of improvements.   They can also assist the DIY'er to guide them with staging recommendations.
3. A home buyer is willing to pay more for a home that has been professionally staged.  They view the home as well maintained and cared for.  With this thought process, they feel that if the home looks maintained, the current owners have
Decorating vs Staging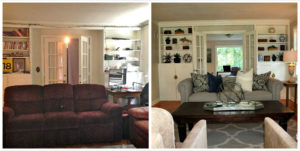 kept it up over the years.  They are more comfortable in making their highest and best market value offer.  In turn, staged homes sell 50-80% faster than non-staged homes and for approximately 7-10% more.  In today's competitive real estate market, decorating is optional but home staging is mandatory!  Staging not only benefits the buyers, but definitely makes an impact on the homeowner's bottom line!