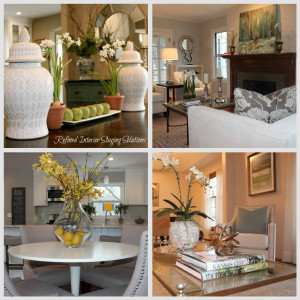 Ten Tips to bring Spring into your home in 10 Minutes or less!
We still have a few weeks technically before it says "spring" on the calendar, but I can hardly hold back the anticipation of what always feels like a chance to start new, to start over and make things better. Here are 10 Spring time tips, in 10 minutes or less that will not only change the aesthetic look of your space, but it can open up your senses and mind to a more beautiful space
 Open the windows. Let the fresh air in. Breathe it all in!
Change your sofa pillows to lighter, brighter colors. Use natural fabrics such as cotton to give it a lighter feel.
Go out to your backyard and cut some twigs, flowers or whatever you see out there that connects you with nature. If that doesn't work, head up to your local grocery store and buy a bouquet of fresh flowers!
Rearrange your fireplace mantle. Replace your art with a mirror to brighten the space or add a new picture that inspires you.
Rearrange your accessories on the mantle. Remove the fireplace screen.
Change out a rug. Add a natural fiber rug such as a sisal or jute to give it a fresh new feel in your space. Bringing in natural and organic fibers changes the entire look of the space.
Add an interesting piece of painted furniture to the space. The latest rage is all the hand painted furniture. Find a great vintage piece and add some distressed paint to it to bring in a pop of color or a lived in feel to your space.
Minimize the accessories in your room! Clean off the surfaces and think about one or two pieces you can temporarily pack away. Let the pieces that remain be ones that create an impact.
Add some coastal vibe to the space! It's the latest trend that is seen all over the country whether you live near the water or not! Who wouldn't want to feel like you can escape to the beach by being reminded with a beautiful piece of coral or a bowl of shells. Simple, yet subtle and it will lighten and brighten the feel in the room!
And lastly, go back through your space and ask yourself one more time looking at all your "stuff," is this object/furniture something that has a purpose in this space, or is it something that makes me happy. If the answer is "no" to either of those questions, take it out. The lighter your surroundings, the more room for you're creating for yourself and what is truly important in your life. And, that is a beautiful thing no matter what time of year it is!